kitchen renovation, 2000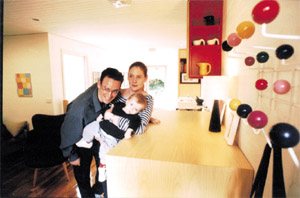 architect's statement
The project was for a young family in inner city Abbotsford. The approach was to carefully design a new joinery piece into the existing fabric of the dwelling. This approach made better sense of the existing living spaces through the use of cleverly designed joinery elements and avoided a bigger and more costly renovation that the clients could not afford.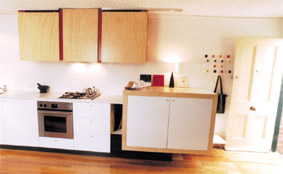 The joinery is a linear piece that utilises 3 economical materials: white laminate, red paintwork and pine plywood. It is the focal point of the living room serving as a kitchen, storage, tv and stereo credenza and also defining the entry to the house. By containing as many functions as possible it has freed the rest of the living space (which was not great) and created a greater connection to the garden.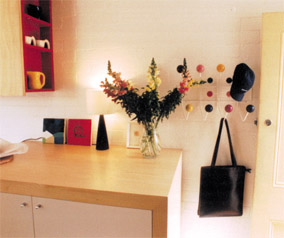 The design also provided greater space to display the client's art and furniture collection. Whilst this project is not large the impact it has made for the family is significant and demonstrates design at a small scale can make be creative as well as functional.
Antony di Mase



zebra architecture links © 2001 last revised 07.01.01